Book
What every investor needs to hear.
Foolish: How Investors Get Worked Up and Worked Over By The System
Ex-Wall Street broker turned fee-only fiduciary, Gil Baumgarten, has written the book that will rile up one of two emotions from many former Wall Street brokers. They will either be relieved that someone is finally telling the story, or they will be horrified that their secrets have been laid bare. Regardless, it's what every investor needs to hear in order to arm themselves with information and be on guard about how the system is built to help Wall Street get into investors' pockets.
Through Baumgarten's insightful story of his career on Wall Street, readers are given an inside look at the inner workings of the complicated brokerage ecosystem. And he doesn't stop there. What this book highlights so uniquely is the reality of investor behavior and how Wall Street may be a problem of its own making, but so are you as an investor with self-destructive tendencies. Baumgarten guides the reader through their journey of introspection and leaves them with a helpful path forward.
After 25 years on Wall Street and another 13 years as a fee-only fiduciary RIA counseling some of Houston's wealthiest families, Baumgarten has seen the staggering differences in the brokerage and advisory ecosystems and how subscribing to the latter model often leads to truer and holistic client success. Baumgarten's insights are nothing short of captivating (and convicting) and are sure to have lasting effects on readers, leading them to walk away from the Foolish routes investors so often take.
View testimonials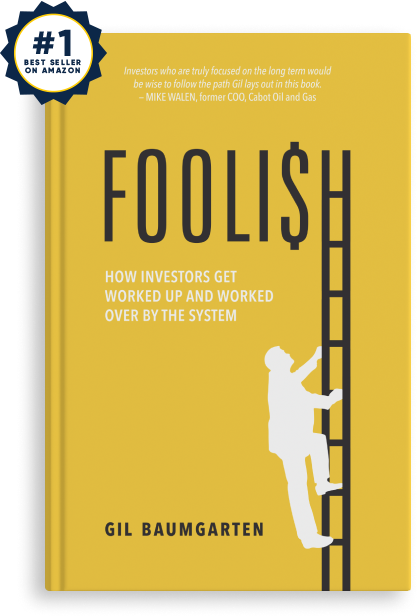 Order on Amazon
Quotes from the book
"I don't like "suitable" either, and neither should you. You might remember when AT&T rolled out a relatable suite of commercials likening cell service to other areas of life such as sushi, surgery and tattoos where "good enough" just isn't good enough. I would add financial advice to the list, but hey, I'm biased. There are some things that simply demand a higher level of excellence."
"If you can honestly and accurately assess who you are, and what you want, you will save yourself from a world of trouble. And the cherry on top - those who are willing to take this honest look at themselves typically end up with the money that formerly belonged to those who have not done so."
"Skilled advisors are often very good at telling others what to do with their money because they are more emotionally apathetic about the outcome. I often envision this as an old western movie with a fighting duel. The one who snatches his gun and fires first without thinking is usually the victor. Aiming would not only give a time disadvantage, but it would also allow him some time to think of the enormity of our situation and start shaking. That shaky cowboy couldn't hit the broadside of a barn. Nerves of steel? Cool as a cucumber? Call it what you will, emotional detachment is advantageous under stress."
"Investors should be prepared for curveballs before they even get up to the plate. They have to understand that the real game is played by bunting and hitting singles, and even being willing to get hit by the ball a time or two. If you want to score runs, do it this way. Unfortunately, most people want to stand up and swing hard at every pitch so they can be the next Babe Ruth and break all the home run records. But that isn't the way to score runs and win ball games. In the end, portfolios will stand the test of time by how many runs we score, not by how many home runs we hit."
"A proper advisor will coach you in off the ledge when the timing is right for that, and make you stick to your knitting when the going gets tough. They are built-in accountability, keeping you out of trouble. They are a delegated repository for your angst, keeping you from acting on the incessant threats. They watch out for the fine print, keeping you from falling into fee and tax traps. An advisor can serve as an intermediary for couples who have opposing mindsets on risk and reward, and they can provide continuity, an advice bridge for clients who die unexpectedly. Above all, they are the one responsible for thinking about what one should be doing next, and doing so impartially, and in the clients' best interest."
"We must deal with the gap between perception and reality and the true underlying question of risk-appetite under duress."